Elucent Whitening Skincare Line - A Review*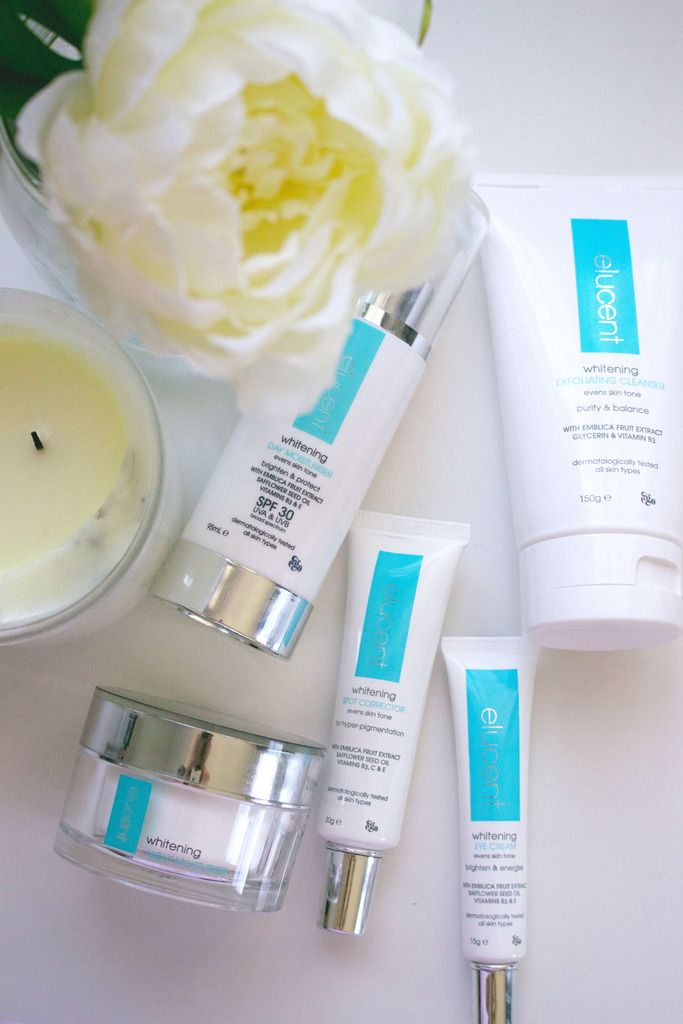 I love love skincare. It's something I'm quietly passionate about just because with skincare, it's hard to measure whether the products work for you or not without using the actual products on your skin for a long period of time. For all intents and purposes for TDL, I like to try out any skincare product/range for 1 month.
I was given the Elucent Whitening range back at the Bloggers United event in Sydney a few months back. Elucent is a brand off the Ego Pharmaceuticals skincare range, that most Australian families probably have in their bathroom cabinets.
It's been stored in my makeup/hair/skincare drawers until now. I've been curious to see what it does for my skin since its purpose is to not only 'whiten' the skin but help assist the skin to glow from within and also even out skin tone.
Packaging
I find the packaging really nice for the day moisturiser and night moisturiser. It looks sleek espeically for drugstore. Where is the eye cream, hand cream, cleanser and spot corrector isn't worth the price of the packaging, however this brings me to my next point about the pricing.
Pricing
The range is high $20's to low $40's. The cleanser and hand cream are $25.39 and $20.99 respectively, where is the day moisturiser, night moisturise, eye cream and spot correct are retailing at $42.39 at Chemist Warehouse. For this is quite expensive for drugstore.
Product(s)
I used the entire skincare system for four weeks straight.
Elucent Whitening Exfoliating Cleanser
I found the cleanser a little too harsh for my skin for daily use, so I only used it 2 times a week. This was because the exfoliating beads were too harsh on my skin personally for daily use. However in saying that, for this review's purpose I just went back to my normal cleanser being my Lush 9 to 5 cleanser for the rest of the trial period. Would I use this product again? No.
Elucent Whitening Day Moisturiser
I love the fact that this product was SPF 50+. I'll be honest I don't use SPF on a daily basis when I should be. The convenience of having the SPF in this product really is a great thing about the product, however I didn't really see it moisturising my face. I have a dry/combo skin type, so having my skin moisturised is super important for me. My skin began to flake as well because it wasn't getting the moisture it needed. The product itself I find quite sticky and hard to apply to the skin.
Would I use this product again? No.
Elucent Whitening Eye Cream
Eye cream is one of those products that its hard to measure its effectiveness just because you need to be using for a long period of time to know if it assist the skin around your eyes. Also the fact is, I have no signs of ageing (yet!) so measuring the effectiveness of the product prevent lines around your eyes is probably not going to be visible. However, the eye cream does help with keeping the area hydrated which is important.
Would I use this product again? No, only because there are other better eye cream products out there, however this is a good eye cream to use if you are looking for something to brighten the area.
Elucent Spot Correcting Cream
I suffer from pigmentation, especially during the summer months and I'm quite exposed to the sun more on a daily basis. I found this product very runny. I don't like my creams too runny that's just a personal pet peeve of mine. Some people may find it easier to apply the product to the skin. I unfortunately didn't really find this assist evening out the skin tone of my skin or help with the pigmentation! I did use this product twice a day as well. Note: This could mean I would have needed to use the product for a longer period of time.
Would I use this product again? No
Elucent Night Moisturiser
This moisturiser is nice and thick. I like my night moisturisers to assist the skin in repairing and hydrating the skin. I have no quams about this product, I actually like this moisturiser as a night moisturiser to use on a daily basis.
Would I use this product again? Yes
Have you used the Elucent Whitening Skincare Range before? How did you find the skincare line?
Instagram || Pinterest || Bloglovin' || Twitter
*the products in this post were given to us at Bloggers United Event to try out for ourselves  to read more about this click here for our disclaimer policy